This morning (March 24, 2021), the Vietbuild Hanoi International Exhibition 2021 was officially opened at the National Construction Exhibition Palace – 01 Do Duc Duc, Nam Tu Liem, Hanoi. This exhibition with the theme "Construction – Construction Materials – Real Estate & Interior and Exterior", is invested in a large scale, full convergence of services, new products and advanced technology. Construction industry – Real estate with many diversified and diversified activities, with the participation of more than 1,500 booths.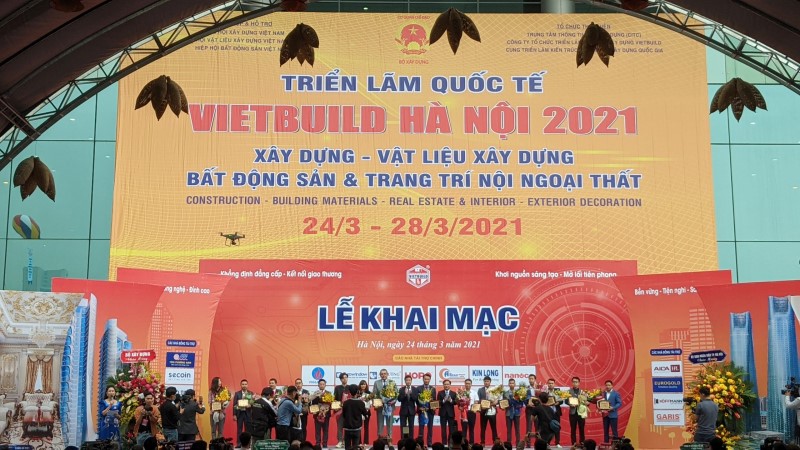 Viglacera continues to be the main sponsor at Vietbuild Exhibition 2021
Viglacera's booth at Vietbuild Hanoi International Exhibition 2021 with the theme "HOLD THE FOUNDATION – OPEN THE FUTURE" takes design ideas from the pentagon image representing the existing foundation values of Viglacera with a strong diagonal line running around expressing development and innovation values and the green patches of light running along represent the core value of "GREEN TECHNOLOGY PRIORITY".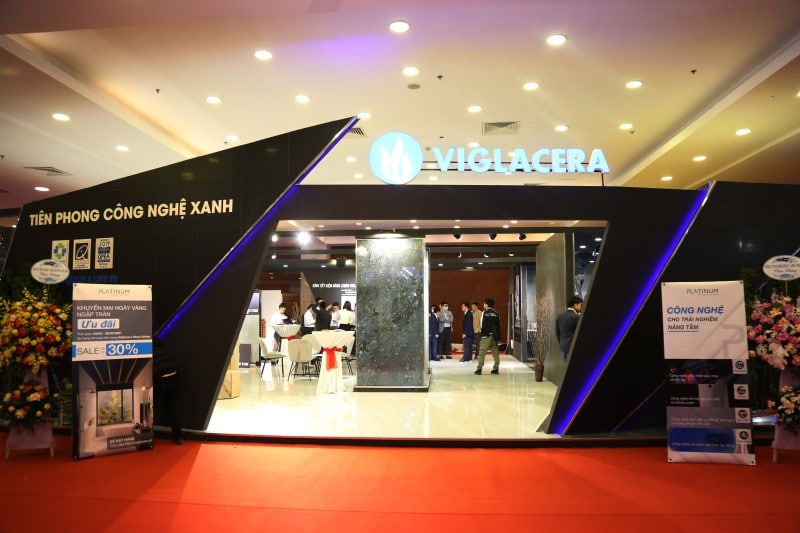 Customers entering Viglacera's booth not only visit and experience the display space but also pay attention to product features, price and policies for consumers as well as the system.
Genuine showroom of Viglacera brand.
On the first day of opening of the exhibition, Viglacera hosted the reception of agents, customers, architects who were customers of Tiles, Aerated Concrete.
Customers of Ha Long Sanitary Ware and Ceramic Tiles will be attentively welcomed in the following days of the exhibition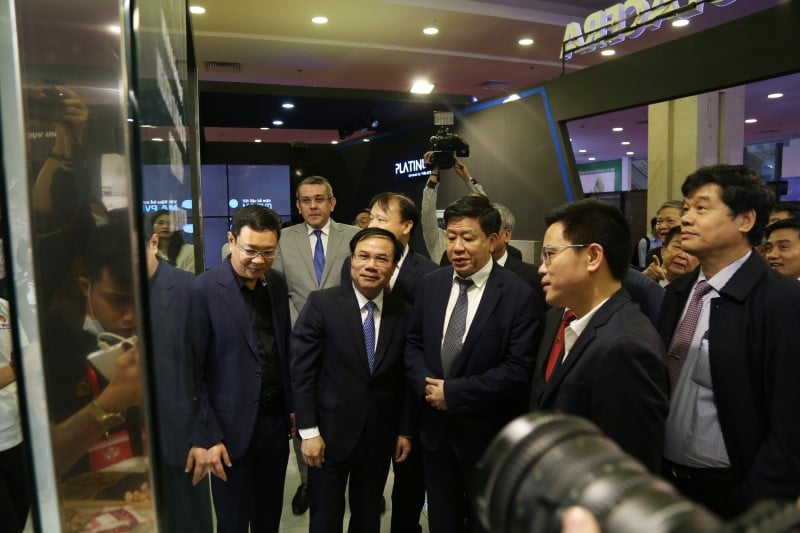 Deputy Minister of Construction Nguyen Van Sinh directly visited Viglacera's products.
The deputy paid special attention to large-format porcelain panels – the perfect architectural surface solution, the most advanced technologies applied to the production of tiles, sanitary wares, and construction glass. During this year's Vietbuild Hanoi Exhibition, Viglacera continues to introduce to customers new product lines with superior features such as high-grade ceramic tiles, glazed tiles, energy-saving glass, wall panels. , Clinker bricks, Aerated Concrete Panel…. In particular, the highlight at the exhibition that Viglacera wants to introduce to customers is large-sized porcelain panels, super-white glass and nano mirrors. These are the first products produced in Vietnam. Diversified experiences at the showroom of Sanitary wares – Shower Completely different from the youthful, modern and innovative style, the booth of Viglacera Platinum sanitary wares – showers attracts customers by the uniqueness of the display idea. Products are not about quantity, but focus on quality – "little but quality". Combining high-end feature interpretation, modern technology through interactive touch screen. In particular, the 3-force Turbo Vortex exhaust technology was reproduced with a simulated sample at the booth, making it easy for visitors to visualize in the most intuitive way.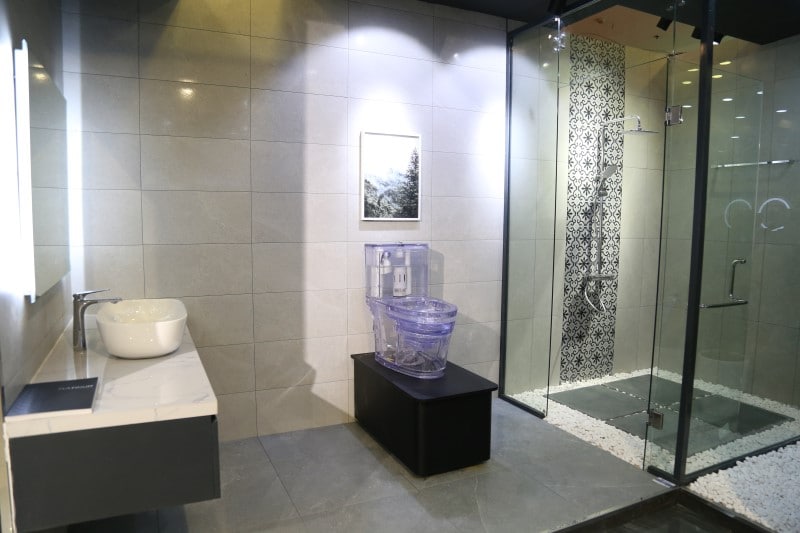 In the future, Viglacera aims to develop sustainable development by creating synchronous solutions, creating green living spaces from modern innovations such as antibacterial Nano Titanium technology, original Z-Cera technology. block, non-touch discharge … The products will be designed according to a collection by experts from Viglacera Sanitaryware Studio, combined with foreign design experts, to catch up with modern design trends. From there, elevating the user experience. To pay tribute to customers at Vietbuild 2021 event, Viglacera Platinum sanitary wares and shower equipment jubilantly promote up to 30% in 5 golden days: from March 24 to March 28, 2021. Immediately access Viglacera Shop Online (http://viglacera.vn) in order not to miss this attractive "Golden Day Promotion – Great Promotion" program. The possibilities of endless application of Tiles For the first time being produced in Vietnam, Viglacera is proud to present Continua + – large size Porcelain panels. The new size and thickness (120x260x6) can be used on almost any surface where design is required, including kitchen furniture, countertops, wall panels, doors, wardrobes and wardrobes. , furniture…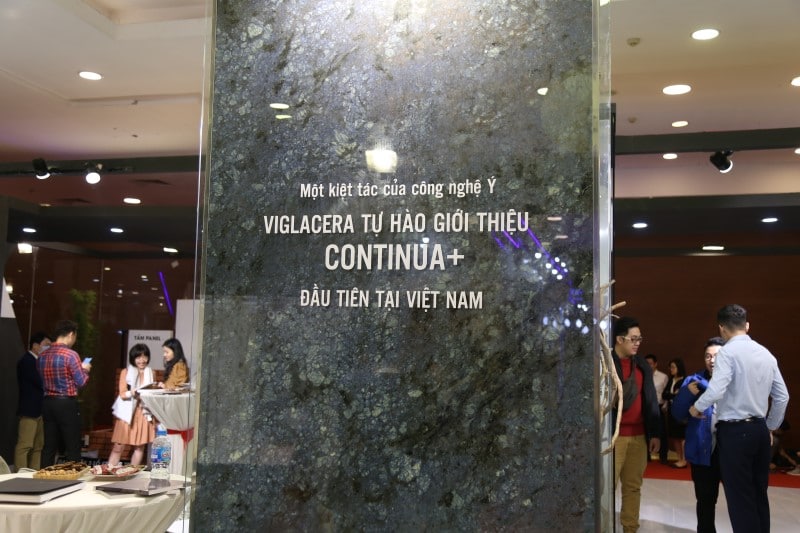 With advancements in technology and years of development, the first manufacturer Viglacera in Vietnam can offer a variety of thickness options: Thin (6mm), conventional (9.5mm) and thick (20mm). for different applications. Moreover, by becoming the first Vietnamese manufacturer to utilize the complete digital enamel printing technology, Viglacera offers customers various surface options, including slip resistance, for all bricks: gloss enamel, regular matte, matte R10, matte R11 and lappato. New bone technology helps Viglacera provide technical homogeneous bones to increase the durability of bricks and colored bones to create a high-end aesthetic effect. Energy Saving Glass, Super White Glass and Nano Mirror – the right technology for projects of stature. The concept of using energy-saving glass in high-end buildings has been gradually recognized by consumers. Low-e Viglacera energy-saving glass product with outstanding advantages is the ability to prevent heat transfer, reduce energy for the cooling system, save electricity energy using air conditioners up to 45%. protect consumers' health by preventing almost 99% of ultraviolet (UV) rays With superior features and visual comparisons at the booth, visitors can experience the reality of Viglacera super white glass. The product has an optical permeability of 91.6%. Viglacera nano mirrors are produced on the production line using sputtering technology with nanotechnology particles to create a anti-mold coating with high reflectivity to create sharp and realistic images. Viglacera aerated concrete panels and bricks – a modern construction solution, updating construction trends in the world In construction and modern design, the use of autoclaved aerated concrete panels is really bringing a lot of benefits to both the investor and the user. Viglacera's panel products, when used in the construction of apartment buildings, can reduce the wall's finishing thickness by 2 to 3 mm, creating more usable area of ​​apartments, reducing adversely impact on the natural environment … In addition, Viglacera panels are made of steel core and non-steel core, which are flexible in the length and thickness of the sheet. Baked clay bricks – the trend of large size and multi-color products High-grade baked clay bricks and tiles have gradually been technologically improved to thin sheets with various sizes and rich colors. Especially with tile products, Viglacera booth displayed and introduced large sized tiles with size 10v / m. This is the trend of European-style roofing tiles, with new colors and glazed to increase the durability of the product. Viglacera's main message at Vietbuild 2021 is Touching the Future. Viglacera – Vietnamese pioneer in bringing world-leading technologies to build a better, greener and more sustainable life for Vietnamese people.